Knauf Insulation announces €120 million investment in sustainable expansion of Croatia plant
Knauf Insulation is to invest around €120 million in a new sustainable manufacturing line featuring innovative electric melting technology at the company's Novi Marof plant in Croatia.
The expansion will enable the plant to more than double its annual manufacturing capacity for energy saving solutions, create more than 70 new jobs in the process and significantly expand the company's European presence.
In addition, the new line will enable the plant to step up production of its technical, industrial and construction applications as well as the manufacture of Knauf Insulation's innovative Urbanscape® green solutions.
Knauf Insulation estimates that the volume of solutions from the new line has the potential to save more than 1.5 million tonnes of CO2 emissions over their lifetime.
SUSTAINABLE TECHNOLOGY BOOSTS PRODUCTION
The latest sustainable technology will be at the heart of the expansion. The electric melting furnace will cut direct greenhouse gas emissions by 80% compared to traditional technology, green electricity sourcing has been secured for the plant and the possibility to recycle in the production process will increase by 60%.
Construction is planned to start at the end of the year and the new line is expected to be fully operational in 2025.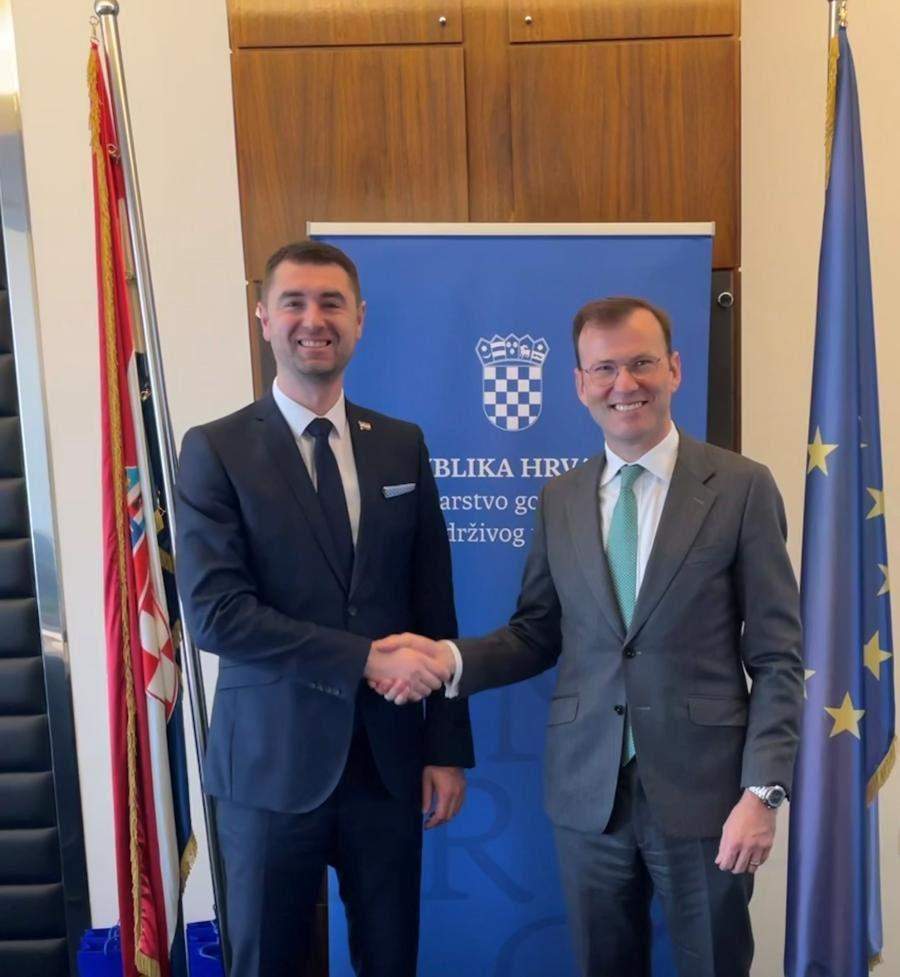 The Novi Marof plant expansion was announced following a meeting between Knauf Group Managing Partner Alexander Knauf and Croatia's Minister of Economy and Sustainable Development Davor Filipović.
Mr Filipović welcomed the news of the expansion in Novi Marof and said: "We will provide Knauf Insulation and the Knauf Group with every possible support and assistance in the implementation of this new project in Croatia."
EXPANSION SUPPORTS CROATIA'S RENOVATION AMBITION
Alexander Knauf added: "Croatia is an attractive investment location thanks to its geographic advantage in the heart of Europe, its highly qualified workforce and solid infrastructure.
"As the world's market leader for modern and sustainable lightweight construction, the expansion at Novi Marof will enable us to contribute to the targeted energy efficient refurbishment of the building stock in Croatia.
"We are very pleased that the Croatian government supports our investment, particularly in the context of the energy turnaround it is striving for."
NEW LINE WILL INCREASE EXPORTS
Dominique Bossan, Knauf Insulation's CEO for Europe, Middle East and Asia, and Member of the Knauf Group Management Committee, said the plant's production focus will be mainly foreign markets with a planned export share of around 90%.
"Novi Marof's construction solutions will be exported to neighbouring countries such as Italy, Slovenia, Hungary and Romania while the plant's technical, industrial and green solutions systems will be supplied to the whole of Europe and overseas," he added.
The expanded plant will be one of the largest sites in the Knauf Group which has more than 300 manufacturing bases worldwide.
OUR PLANT IS A RESPONSIBLE LOCAL PARTNER
Stjepan Mršić, Novi Marof's plant manager, said: "Although our business focus is international, Novi Marof has always prided itself as being a responsible local partner. The plant priority is sourcing its raw materials locally and we maintain business relationships with more than 150 local partners.
"We are also proud of the work we have contributed to the community including support for local schools, sports clubs and other institutions."
ABOUT KNAUF INSULATION
Knauf Insulation solutions save energy, cut emissions and make sure buildings are good for the environment and keep people healthy, safe and well.
With over 40 years of experience in the insulation industry, we now employ nearly 6,000 people across more than 40 countries with 28 manufacturing sites in 15 countries.
Knauf Insulation is part of the Knauf Group, which employs around 40,000 people worldwide, operating more than 300 factories, with sales in excess of €15 billion in 2022. The Knauf Group was founded in 1932 and is a family-owned company driven by the values of Partnership, Commitment, Entrepreneurship and Menschlichkeit (Humanity).