Thermo-teK PS Pro ALU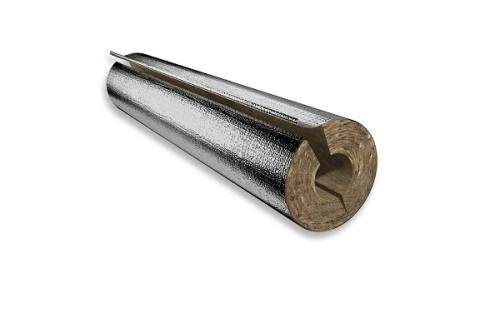 Description
Thermo-teK PS Pro ALU is a circular-wound Rock Mineral Wool pipe section (pre-formed pipe DN up to 300 mm) with premium thermal conductivity, excellent fire resistance and minimum product tolerances of the inner and outer diameters thanks to the use of innovative production technologies.
The 1200 mm long pipe section is slit on one side for easier installation and laminated with fibre glass reinforced, tear-resistant aluminium foil, which acts as a water vapour barrier and a self-adhesive seal to seal the longitudinal slit/joint.
Due to the product's technical properties, installation of additional cladding on indoor pipes is not needed.
Knauf Insulation Thermo-teK PS Pro ALU is produced with ECOSE® Technology, a patented binder system, based entirely on renewable raw materials.
The thermal conductivity at 40 °C mean temperature is 0,035 W/(mK).
APPLICATION
Defined Thermo-teK applications:
Pipe insulation – heating, water supply
Fire protection in wall/ceiling penetration
The product is recommended for thermal, fire and sound insulation of defined Thermo-teK applications within technical insulation where:
fire resistance up to EI 120 for wall/ceiling penetrations is required
premium thermal conductivity is needed
protection against water vapour and a clean environment is required
Benefits
Certified fire resistance up to EI 120 for wall/ceiling penetrations
2-in-1 solution – optimal thermal & fire performance
Premium thermal conductivity
Longitudinal self-adhesive closure
Fastest way of insulating pipes (pre-formed pipe sections, facing/finishing layer already applied on the product / no glue needed / no cladding needed for indoor applications)
Minimum tolerances of thicknesses and diameters
Nice visual appearance of the insulation (ALU facing)
ECOSE® Technology
Performance
| | |
| --- | --- |
| Reaction to fire | A2L-s1, d0 DO≤ 300 mm, A2-s1, d0 DO > 300 mm |
| Density | 100-120 kg/m3 |
| Maximum service temperature | 500 °C |
| Declaration of performance | http://dopki.com/T4305NP |
| Thermal conductivity (10°C) | 0,033 W/(mK) |
| Thermal conductivity (40°C) | 0,035 W/(mK) |
Certifications Block

CE

RAL

EUCEB
Eurofins GOLD Indoor Air Comfort

Marine equipment directive
Emission class for building material

VKF

Material Melting Point