Power-teK LM 450 ALU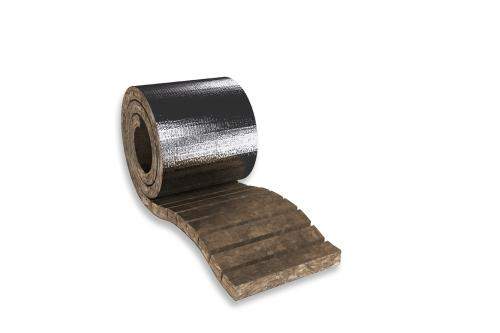 Description
Power-teK LM 450 ALU is a lightweight rock mineral wool mat, consisting of individual mineral wool strips (lamella) that are bonded on one side to a tear-resistant, glass mesh reinforced aluminium foil with maximum service temperature of 450 °C.
The fibres, which are primarily oriented vertically to the contact surface, provide high compressive strength. Consequently, a sub-construction structure is not required for round objects. At the same time, the mineral wool mat offers sufficient flexibility for easy handling and fast installation.
Knauf Insulation Power-teK LM 450 ALU is produced with ECOSE® Technology, a patented binder system, based entirely on renewable raw materials.
APPLICATION
Defined Power-teK applications:
Pipe insulation
Furnaces & other equipment
Tank walls & heat storage
Boilers
The product is recommended for thermal, fire and sound insulation of the defined applications within technical insulation:
to avoid sub-construction structure for round objects
where a light solution with high compressive strength is needed
Benefits
Flexibility for easy handling guaranteed
Easy to cut
Non combustible
Inherently stable
Made without formaldehyde additive
ECOSE® Technology
Performance
| | |
| --- | --- |
| Reaction to fire | A1 for thickness ≥ 30 mm (A2-s1,d0 for thicknesses 20 and 25 mm) |
| Maximum service temperature | 450 °C |
| Declaration of performance | http://dopki.com/T4305HPCPR |
| Thermal conductivity (50°C) | 0,044 W/(mK) |
Product
Packaging specifications
| Thickness | Length | Width | m2/packaging unit | m2/pallet |
| --- | --- | --- | --- | --- |
| 30 | 8000 | 500 | 8,00 | 120,00 |
| 40 | 6000 | 500 | 6,00 | 90,00 |
| 50 | 5000 | 500 | 5,00 | 75,00 |
| 60 | 4000 | 500 | 4,00 | 60,00 |
| 70 | 3500 | 500 | 3,50 | 52,50 |
| 80 | 3000 | 500 | 3,00 | 45,00 |
| 100 | 2400 | 500 | | 28,80 |
| 120 | 2400 | 500 | | 24,00 |
Certifications Block

CE

RAL

EUCEB
Eurofins GOLD Indoor Air Comfort

Marine equipment directive

Material Melting Point
Downloads
Downloads
The download url has been copied to your clipboard