Power-teK LM 640 ALU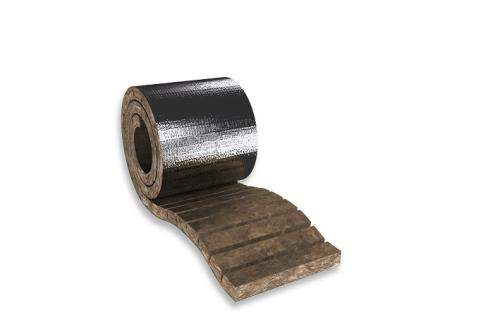 Description
Power-teK LM 640 ALU is a rock mineral wool mat, consisting of individual mineral wool strips (lamella) that are bonded on one side to a tear-resistant, glass mesh reinforced aluminium foil with maximum service temperature of 640°C.
The fibres, which are primarily oriented vertically to the contact surface, provide high compressive strength; consequently, a sub-construction structure for round objects is not required. At the same time, the mineral wool mat offers sufficient flexibility for easy handling and fast installation.
Knauf Insulation Power-teK LM 640 ALU is produced with ECOSE® Technology, a patented binder system, entirely based on renewable raw materials.
APPLICATION
Defined Power-teK applications:
Pipe insulation
Furnaces & other equipment
Tank walls & heat storage
Boilers
The product is recommended for thermal, fire and sound insulation of the defined applications within technical insulation:
to avoid sub-construction structure
where a 80 kg/m³ solution with high compressive strength is needed
where maximum service temperature of 640 °C is required
Benefits
High compressive strength
Protection against water vapour
Good thermal conductivity
One product for different sizes (universal solution)
Optimal visual appearance after installation.
Flexibility for easy handling guaranteed
Easy to cut
ECOSE® Technology
Performance
| | |
| --- | --- |
| Reaction to fire | A1 |
| Maximum service temperature | 640 °C |
| Declaration of performance | http://dopki.com/T4305WP |
| Thermal conductivity (50°C) | 0,044 W/(mK) |
Product
Packaging specifications
| Thickness | Length | Width | m2/packaging unit | m2/pallet |
| --- | --- | --- | --- | --- |
| 30 | 8000 | 500 | 8,00 | 120,00 |
| 40 | 6000 | 500 | 6,00 | 90,00 |
| 50 | 5000 | 500 | 5,00 | 75,00 |
| 60 | 4000 | 500 | 4,00 | 60,00 |
| 70 | 3500 | 500 | 3,50 | 52,50 |
| 80 | 3000 | 500 | 3,00 | 45,00 |
| 100 | 2400 | 500 | | 28,80 |
| 120 | 2400 | 500 | | 24,00 |
Certifications Block

CE

RAL

EUCEB
Eurofins GOLD Indoor Air Comfort

Material Melting Point
Downloads
Downloads
The download url has been copied to your clipboard